Get to know our Trainee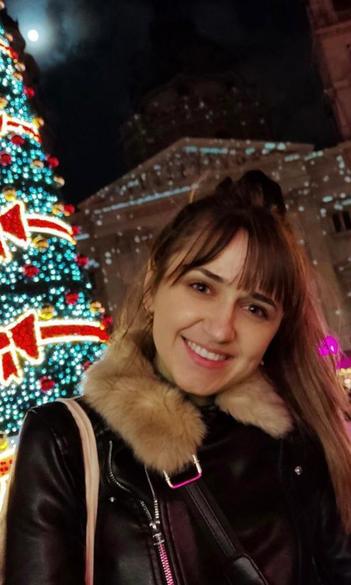 First of all, what's your name, how old are you and where are you from?
My name is Deniz, I am from Turkey. I was born in a small city there, called Kütahya, it is located in the western part of Turkey. I am 29 years old.
And what did you do before you came to Hungary?
I was an English teacher. I worked 6 years at a primary and secondary school, and also I was doing my master's degree in an institute of Adult Education and Lifelong Learning, that's why I am here actually. I got Erasmus exam for internship, I was writing my thesis in last term, and I came here and I'm still writing my thesis.
So, you have a degree in teaching?
Yes, my bachelors are from teaching and I worked at a state school.
You mentioned that you chose Erasmus. Why did you choose this scholarship program?
Actually, it was easy to apply for Erasmus at the university but actually I was told its gonna be 2 months, then the organization offered me 12 months internship and I got accepted for 9 months and I am here.
And why did you choose Hungary?
Seven years ago, I came here as a tourist for 2-3 day, and I really liked the architecture and also the food, and people were nice to me.
And what do you think about the Human resource counselling MA?
I took some classes here thanks to the teachers who accepted me to join their classes, and I learned that counsellors are really necessary for workplaces for the atmosphere and to solve the employee's work-related problems.
What kind of classes are you taking?
I take classes like Leadership, Psychology and Research methodology. It is really important for master students and PhD students. I really enjoy all off them.
Why did you choose this institute?
Everybody knows ELTE's reputation, the biggest university in Hungary, of course I wanted to come here but I choose this institute because I was doing my master's degree in Adult Education, I changed my academic career to this because I am interested in adult education more. In Turkey we don't have many adult learning centres and programmes for master and PhD students, so I just checked all Europe and I really liked ELTE and the professors here.
What do you think about Erasmus as a networking opportunity for international students?
Erasmus is a great programme to make friends from all over the world and also it's a great chance to find new possibilities for your future carrier. Of course, there are some challenges, I am not an extrovert person, and to start conversation with foreigners and new people is a big challenge and also the cultural shock. But it's a great way to know yourself better and find new opportunities for work and for your social life and open your mindset for new cultures, also one more thing about culture. I'm from a really small city but people are from the same ethnicity and speak the same languages. Now with Erasmus I have a great opportunity to get to know people from different religions and cultures because we are also learning to respect them and their traditions.
What's the most interesting thing you have learned during your programme?
When I came here, I didn't know I can join classes, but I realized that I can join some courses of the master's program for international students. It's a great way to get to know different cultures. And also, I was a student in classes and then go to workplace and work there. So, I have the chance to experience both of them. I have some Hungarian colleagues to get to know Hungarian culture and also international colleagues to get to know other cultures too. It's not easy jumping from students to colleagues but it's good to know the work balances and dynamics in a Hungarian workplace.
How long have you been in Hungary?
I came here in September, first of September, so just three months.
And how do you like it so far?
First of all, I was fascinated by the architecture, walking around the city and the Duna part. I like pastry, my favourite one is 'kakaós csiga', and also the desserts. I am trying to eat more of them. Also, I really like the transportation system because this is really important to foreigners to know that they are safe in a daytime or night-time. It's good to know that many young people speak English and there are many international people, so you don't feel so lonely. And Hungarian people are really nice, of course there are some exceptions, but I have never experienced bad behaviours. Budapest is a really good capital city, because it's not that crowded compared to other capital cities, but it still has many activities. And you can find some peaceful parks if you want to have rest.
What is your expectation for the rest of your stay?
I have 6 months left or a little less. First of all, I would like to learn Hungarian better, but it's very difficult, one of the most difficult languages in the world, but the structure is similar to Turkish language, so I am happy about that, but it's still hard. Now I'm taking a language course. Also, I am trying to go to local places less to touristic spots, and I want to take university courses more, if I have the chance to learn from the program and about the education system because when I go back to my country, I would like to apply the things I learned here as a teacher as well.
You plan on applying to another program after you go back to Turkey? Do you have any plans coming back to Hungary?
When you get to know other cultures, you cannot give up learning them and you will always have desires (to get to know it more). I would like to apply to a PhD program, because it can be seen, that this is a really great university. And after that maybe I will go back to Turkey. But I don't know, we will see after four or five years, until then anything can happen.
So, you mentioned that you have 6 months here. What do you want to experience here in Hungary during the rest of your stay?
Now I have been only in Budapest. I would like to get to know other cities better. Because this is the capital city and it's a little bit more international. To learn more about the national festivals and celebrations, because for example I don't celebrate Christmas and I am really excited to see, you know, all the decoration, all the things' Hungarians drink or eat, what do they do, what are the customs with the families and friends. And also, to know more Hungarian friends and in the institute also, maybe being a bridge, link here between Hungarian and international students and help organize events for them.
Do you have some advice for scholarship applicants or those who are considering applying?
Yes, of course I have. There are many benefits to it. There is a financial support it's really important, also exploring the neighbouring cities. Everybody knows this quote and I would like to remind you. "Life begins at the end of the comfort zone", so that's why if you want to know yourself better and discover yourself or want to know your potential you should step out of your comfort zone and apply for scholarship be find your own path.
Why does Deniz recommend to participate in the Erasmus program? Watch the video here and here!
More about exchange programmes
Erasmus coordinator of the Institute: Luca Alexa ERDEI, lecturer